current position:
>>
>>
>>
Products
发布时间:2018-10-24 11:06:25
Product name: Putian wireless video and audio transmission system
Release time: 2018-10-24 11:06:25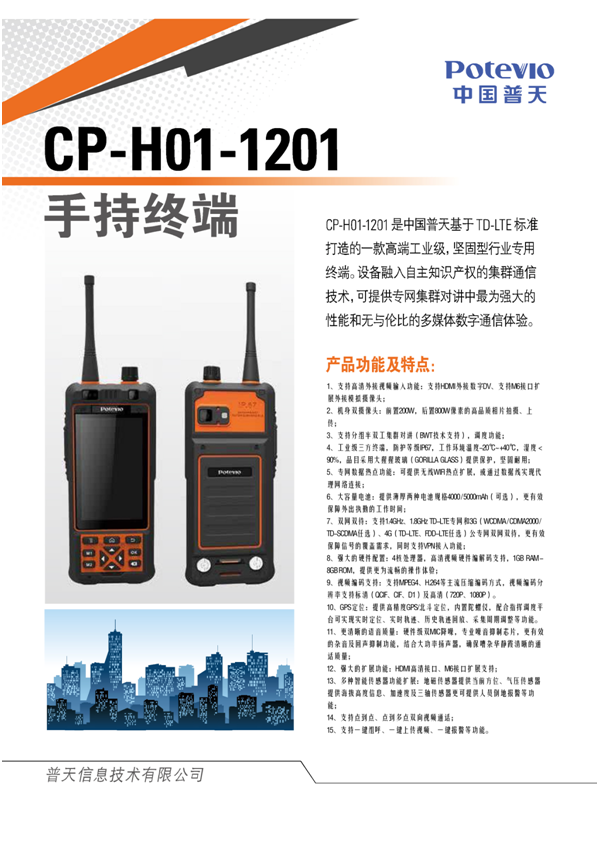 Company Name:
Putian Information Technology Co., Ltd.
Business Type: Production Enterprise
Phone: 18910885096
Phone:
Contact: Zhao Jiyan
Address: Putian Building, No. 6 North Second Street, Haidian District, Beijing
product description:
The system consists of front-end audio and video forensics, information processing (compression), narrowband and broadband wireless transmission equipment, secure access systems, background data processing, and interface system equipment. It is used for information transmission between emergency scene and command center and on-site emergency command dispatch, and it can also be used for communication interconnection between individual soldiers, single police and front finger. The fourth generation mobile communication technology is the core technology, which combines high-speed, large-bandwidth and digital trunking technology resource sharing, fast call establishment, trunk command scheduling and other features, and integrates voice, data, and video communications into a new generation. Broadband multimedia digital trunking communication technology. TD-LTE 的高频谱利用率和大带宽,在覆盖范围内,实现集群语音、视频和数据调度的有效融合,提高应急通信的网络能力、技术装备及应用水平,实现突发事件应对处置的通信支撑能力、防灾减灾工作的通信保障能力的明显提升。 The characteristics of broadband, multimedia, and trunked communication are organically combined. Using the high spectrum utilization and large bandwidth of TD-LTE , within the coverage area, the effective integration of trunked voice, video, and data scheduling is achieved, and the network of emergency communication is improved. Capabilities, technical equipment and application levels, and significantly improve the communications support capabilities for emergency response and handling, and the communications support capabilities for disaster prevention and mitigation.
Related Products
New Product Express
Latest topics
More
Xiaobian collected intelligent epidemic prevention products [ details ]
More
Cooperative Publication